Leader Bio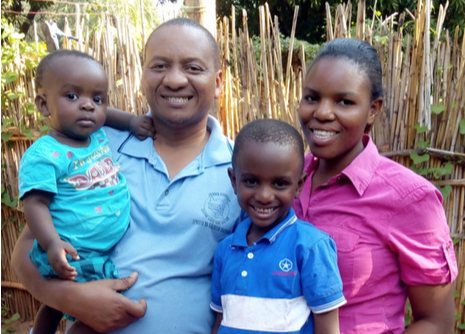 Rev. Nyuma Kiyumbi
Christian Beginnings
I was born into a Christian family in Lake Victoria Zone in Tanzania. When I came to my senses, my father was already a minister of an Evangelical Church called Africa Inland Church Tanzania. Born and raised into a Christian minister's home, I had the privilege of hearing the gospel at home through family devotions, and I attended church services and children's Sunday School Classes. The Christian environment enabled me to accept Christ as Savior and Lord at the young age of eight in 1984.  Four years later, I was baptized.
During my studies in secondary school, I was involved in Christian Fellowships. I had opportunities for discussing various topics on faith and Christian life with fellow students. Issues like creationism and evolution theory were both interesting and challenging topics and involved logical arguments. These discussions raised my interest for theological studies, so that I could understand and logically explain the biblical faith.
Called to serve young people
Upon completion of advanced secondary education, I heard a call to theological education to learn more about the Christian faith and to share it effectively. I went to Nassa Theological College in 2002 and graduated in 2006 with an Advanced Diploma in Theology. After graduation, I went straight into the youth ministry of the Africa Inland Church Tanzania.  Africa Inland Church Tanzania is a national church. It divides the country into six Dioceses. I was entrusted to care for the youth ministry in a Diocese called Geita, North West Tanzania. At that time, Geita Diocese had over five hundred local churches. My role as a Diocesan Youth Coordinator was to ensure that there were trained youth leaders in every local church. The ministry was huge and demanding, but by the help of God, it was possible.
After working for eight years, I felt a need to specialize in Youth Ministry, so I enrolled for a Diploma of Youth Ministry Major, which was offered by Youth Ministry International in collaboration with Nassa Theological Collage. I also received a Bachelor of Administration to enhance my ministerial and administrative skills. My wife Flora and I together with our children, Wilson and Glory, are serving the young people of Tanzania.
partnership with "Reach Out Youth Solutions"
I got in touch with Reach Out Youth Solutions in 2009 when Pastor Charles Juma and Pastor Enock Amboka from Kenya conducted a Jesus-Focused Youth Ministries (JFYM) Youth Leaders' Forum in Geita, Tanzania. In collaboration with JFYM, we were able to train youth leaders in ten denominations. The Reach Out Youth Solutions' material has been beneficial for training capable youth leaders in Tanzania.
In 2016, I moved to the Head Office of Africa Inland Church Tanzania in Mwanza to become a Country Youth Coordinator where I work to the present. Reach Out Youth Solutions remains our faithful partner in the inter-denominational youth ministry in Tanzania. Our focus now, in partnership with Reach Out, is to reach the youth all over Tanzania and train capable youth leaders in all 25 regions of Tanzania. With the help of God, it is possible!
Contact Nyuma: mzeenk@yahoo.com